The relentless parade of new technologies is unfolding on many fronts. Almost every advance is billed as a breakthrough, and the list of "next big things" grows ever longer. Not every emerging technology will alter the business or social landscape—but some truly do have the potential to disrupt the status quo, alter the way people live and work, and rearrange value pools. It is therefore critical that business and policy leaders understand which technologies will matter to them and prepare accordingly. An undeniably ingenious invention, the block chain has allowed digital information to be distributed and accessed across platforms, creating the backbone for a new type of internet. Originally devised for monetary and fiscal transactions, the tech intelligentsia is finding new means of employing the block chain across industries and platforms. In an ever disruptive world where one technology supersedes another in a matter of days and common adoption – rejection timelines are elongated, pricing strategies become ever so important in any product lifecycle. Embracing or refuting a technological development remains solely in hands of the consumers and the clients today, that have reinvented and reshaped organizational and personal spending patterns. An open-source distributed database using state-of-the-art cryptography—may facilitate collaboration and tracking of all kinds of transactions and interactions and could offer genuine privacy protection and "a platform for truth and trust."
Embracing the disruption might seem a tedious and a long drawn process, but with the advent of the digital age and the sheer pace and traction that new technologies adapt and thus be adopted is highly reliant on the means of positioning and approach to market, solution providers embrace and employ. A key aspect of this positioning strategy is developing an apt pricing model. More often than not adoption on the product/service lifecycle is highly reliant on the cost to the customer, thus it is pivotal to adapt the pricing model of disruptive technologies like the blockchain or similar new age service offerings in a way which enables high adoption through the product entry phase.
Developing the
Pricing Model
Your pricing model is beyond the pricing page on your website, it is about far more than leaving money on the table and making a profit. Your pricing model will determine among other things, your market position, whether or not your target customers are accessible to you, and whether or not you can provide the level of service required by these target group. Multiple inputs aid in developing a pricing model, at Citrus, we have highlighted some of the inputs that aid in developing a sound pricing model for your digital offerings and have bucketed them in two aspects Revenue and Cost Elements. We ought to ensure that the majorly the Revenue Generation elements outweigh the Cost ones.
The primal question to be answered by the service provider ought to be the cardinal rule of pricing, Quantity vs Quality, which side of the fence do you want to sit on. Does your offering intend to target a massive amount of customers or does it aim to capture a niche market potentially with more profitable customers? The next big question that ought to be answered is the desired market positioning in the ecosystem of the competition. Do you want to be low end, low price leader or a premium offering? Once these macroscopic agendas are clear, we move onto the customer facing pricing questions that need addressing.
Customer
Who's your ideal customer? Who did you build your offering for and whether they will embrace, be able to afford and deploy your solution in the way you want to position your offering.
Derived Value
Identifying the value that is derived by the consumer is what positions the solution in the eyes of market. The value offered to the customer goes beyond the features, the benefits and encompasses the business benefit that your solution brings to the industry and your potential clients.
Perceived ROI
This is the hard part. Developing a ball park around your position in the customer's eyes and the advantages that your solution brings to him is key in identifying your optimum pricing strategy. You ought to know your target market through and through, often better than they know themselves, in order to truly leverage the value proposition that your offerings bring to them.
Metric
Singularly the most often misplaced element of the pricing model, getting this right is absolutely paramount to the balance sheet of your firm. What will you charge your customer on? Maybe by node, functionality, value delivered, or a commodity asset like storage used. This is the element which the customer looks at and ought to feel good about when he says "yes, I need 7 of those". Basing your price on something of little value or something that is not proprietary and easily replicable devalues your offering. Segmenting your pricing tiers/bundles on something of value avoids this issue and keeps people from gaming the system to avoid forced upgrades, done right, customers will even be happy to upgrade because they've reached a greater level of success.
Deal Size
The question of how many, is what drives the upselling and cross selling, essentially the Expansion Revenue. How many of your previously decided metric will the customer opt for initially, when he is "trying out" your services and what will be his natural state of expansion in lieu of your service offering. In principle, firms ought to aim at achieving greater Expansion Revenue than the "At First" revenue.
Customer Lifetime
Initially experience in the domain and industry knowledge will determine the estimated time your customer will require to design, implement and deploy your offering. Any market data on the churn rate and the average customer lifetime would be immensely useful in factoring in this independent. This metric shall drive your firms Acquisition Spend
Buying Cycle
This determines whether you go for the shorter buying cycle, cheaper e-commerce way or require a profound human element. Disruptive technologies like block chain, SaaS, analytics require more of human interaction owing to the limitation of conveying the value proposition to the customer and your quality differentiator. This is elementarily a market driven element and you have very limited control here.
Procurement Cycle
This is one of the most overlooked elements of any pricing model. Most firms do not factor in the liquidity required to run a successful service offering. Who are the key influencers involved within the customer organization whose nods you will need to drive the purchase order? How will they pay you? Can they use Credit Cards? Do they pay in arrears or up-front? Will the payments be milestone based or monthly or one time? How long do your customers usually take?
Service Level
In a mission critical service offering where you are running a customer system, you ought to bring uptime guarantees with the infrastructure to support it, 24/7 phone-based customer support staff, proactive monitoring of not just critical systems but of customer use (where appropriate and accepted) to ensure a heightened customer experience. This comes at a cost to you. If you're running a low-end utility-class application, uptime is probably a good thing but some hiccups might be acceptable, but definitely not ideal. Data loss and security breaches are never tolerated so you have to ensure you have enough margin to provide that baseline level of support.
These are the key elements that fit into the Citrus framework of developing a pricing model. Certain fringe elements add the much desired zing into your service offerings like bundling features, offering a trial period, or a proof of concept with validation promises. Prolonged knowledge transfers and customer onboarding is always a value add, at the end of it is pivotal to keep in mind that if the customer doesn't understand what you did, why you did and how you did it, the expansion Revenue shall be marginal as compared to when he is a part of the knowledge session. Thus, building a pricing model for a service offering for block chain services encompasses the aforementioned elements, it is essentially a nodal, high level strategic initiative that requires a deep thought process, vision, prudence, and insightful clairvoyance. Citrus is your trusted partner to aid you in developing a sound and comprehensive pricing strategy which not enables you but also adds to your end customer driving value through the entire lifecycle of your implementation and beyond.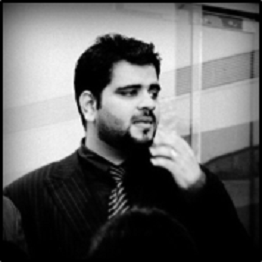 ABOUT THE AUTHOR
Rahul Saraswat

An Emerging Technology Consultant with over 6 years' experience in dealing with technologies like Hyperscalars, Internet of Things and Data and Analytics. He has aided in development of multiple solutions for customers in Middle East and Africa region enabling them in their Digital Transformation journey. A Certified AWS Cloud Practitioner, he is an AWS evangelist empowering customer adoption and expedited onboarding of different emerging technologies and services from varying industries and segments.