At the time of writing, there have been more than 160,000 confirmed cases of COVID-19 and more than 6,000 deaths from the disease. Older people, especially, are at risk. More than 140 countries and territories have reported cases; more than 80 have confirmed local transmission. Even as the number of new cases in China is falling (to less than 20, on some days), it is increasing exponentially in Italy and Western Europe (doubling approximately every four days). China's share of new cases has dropped from more than 90 percent a month ago to less than 1 percent today.
Data from three countries show that older populations are at greater risk.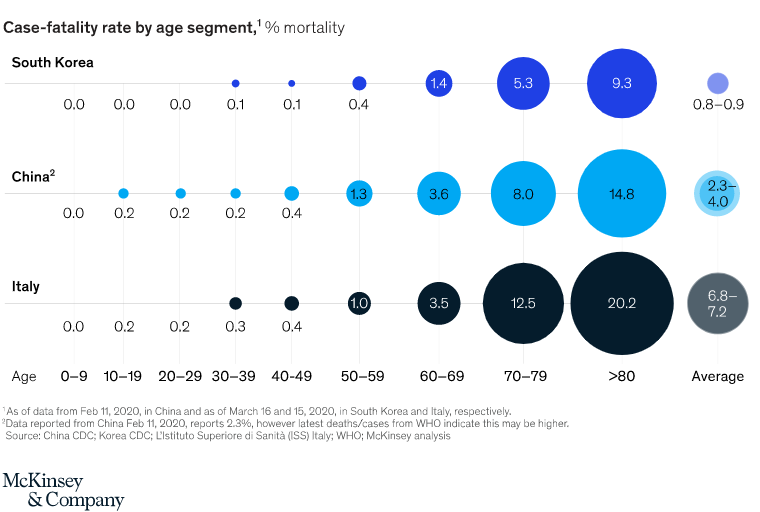 On January 30, the World Health Organization (WHO) designated COVID-19 a "Public Health Emergency of International Concern". In its message, it balanced the certainty that the coronavirus (SARS-CoV-2) will inevitably spread to all parts of the world, with the observation that governments, businesses, and individuals still have substantial ability to change the disease's trajectory.
Where Middle
East Stand?
The recent spread of coronavirus disease 2019 (COVID-19) to eight countries in the Middle East – and the border closures and regulatory responses this has triggered – will heighten existing challenges for national economies. Large-scale quarantines, travel restrictions, and social-distancing measures drive a sharp fall in consumer and business spending until the end of Q2, producing a recession. Although the outbreak comes under control in most parts of the world by late in Q2, the self-reinforcing dynamics of a recession kick in and prolong the slump.
Reported COVID-19 cases within China are now being outpaced by cases elsewhere in the world, the WHO said on 26 February, and contagion in the Middle East is increasing. The authorities in Afghanistan, Algeria, Bahrain, Egypt, Iraq, Iran, Kuwait, Oman and the UAE have all confirmed multiple cases. Iran is the main locus of regional concern, with 29,000 officially confirmed as on 27th March, with a conflicting report of a toll of more than 50 deaths, suggesting much larger contagion. The virus appears to have infiltrated pilgrimage networks between Iran and Iraq, with Iran's shrine city of Qom being the epicenter of the outbreak. A large proportion of regional cases declared outside of Iran affect Iranians or local nationals returning from Iran.
So far, the Middle East has seen over tens of thousands of reported infections and the officially confirmed multiple deaths, but regional countries' response – growing travel restrictions, border closures and quarantines – is already severely hampering national economies. Economies around the world are being battered by two "black swan" events at the same time: the COVID-19 virus and the oil price war between Russia and Saudi Arabia. Naturally, the countries of the Middle East and North Africa (MENA) are also affected, although each in different ways. Those that are net users of energy, which could have benefitted substantially from the vastly lower energy prices, are getting hit hard by COVID-19, while oil and gas producers are suffering from an all-out oil price war made worse by the steep decline in worldwide demand caused by the pandemic.
The Middle East COVID-19 Perspective
Middle East governments are enforcing stay-at-home orders for citizens and residents as the number of Covid-19 cases grows in the region. The UAE announced 45 new cases on 23 March, taking its total number of confirmed Covid-19 patients to 198. The UAE is suspending all passenger flights for two weeks from 25 March as part of its Covid-19 containment measures. Meanwhile, curfews have been implemented in Saudi Arabia and Kuwait, which have 562 and 189 cases respectively.
Saudi Arabia's three-week curfew, imposed by King Salman bin Abdul Aziz, started on 23 March and will last from 7pm to 6am every day. Kuwait's daily 11-hour curfew started on 22 March, and violators will be jailed for up to three years and fined KD10,000 ($32,000) in line with new laws created in the country. Oman announced 11 new coronavirus cases on 23 March, taking its total number of cases to 66, while Bahrain has 183 positive cases of Covid-19. Case numbers are also growing outside the GCC. Jordan reported 15 new coronavirus cases on 23 March, bringing the total number of infections in the country to 127.
Iran, the epicenter of the virus in the Middle East, has 23,049 cases and at least 1,812 deaths. The country has faced criticism for not imposing stricter quarantine measures during the outbreak's earlier stages to contain its spread. The financial strain of the virus has also caused Iran to approach the IMF for a $5bn emergency loan for the first time since 1962. It is also suffering due to the sanctions imposed by President Donald Trump.
The Global Economic Impact
A global slowdown would affect small and mid-size companies more acutely. Less developed economies would suffer more than advanced economies. And not all sectors are equally affected in this scenario. Service sectors, including aviation, travel, and tourism, are likely to be hardest hit. Airlines have already experienced a steep fall in traffic on their highest-profit international routes (especially in Asia–Pacific). In this scenario, airlines miss out on the summer peak travel season, and consolidation across the sector. A wave of consolidation was already possible in some parts of the industry; COVID-19 would serve as an accelerant.
In consumer goods, the steep drop in consumer demand will likely mean delayed demand. This has implications for the many consumer companies (and their suppliers) that operate on thin working-capital margins. But demand returns in May–June as concern about the virus diminishes. For most other sectors, the impact is a function primarily of the drop in national and global GDP, rather than a direct impact of changed behaviors. Oil and gas, for instance, will be adversely affected as oil prices stay lower than expected.
Impact on Middle East Economy
The impact of COVID-19 and the oil price plunge in the Middle East and the Caucasus and Central Asia has been substantial and could intensify. With three-quarters of the countries reporting at least one confirmed case of COVID-19 and some facing a major outbreak, the coronavirus pandemic has become the largest near-term challenge to the region.
Beyond the devastating toll on human health, the pandemic is causing significant economic turmoil in the region through simultaneous shocks—a drop in domestic and external demand, a reduction in trade, disruption of production, a fall in consumer confidence, and tightening of financial conditions. The region's oil exporters face the additional shock of plummeting oil prices. Travel restrictions following the public health crisis have reduced the global demand for oil, and the absence of a new production agreement among OPEC+ members has led to a glut in oil supply. As a result, oil prices have fallen by over 50 percent since the start of the public health crisis. The intertwined shocks are expected to deal a severe blow to economic activity in the region, at least in the first half of this year, with potentially lasting consequences.
Channels of Economic Impact in MEA
Measures to contain the pandemic's spread are hurting key job-rich sectors: tourist cancellations in Egypt have reached 80 percent, while hospitality and retail have been affected in the United Arab Emirates and elsewhere. Given the large numbers of people employed in the service sector, there will be wide reverberations if unemployment rises and wages and remittances fall.
Production and manufacturing are also being disrupted and investment plans put on hold. These adverse shocks are compounded by a plunge in business and consumer confidence, as we have observed in economies around the world.
In addition to the economic disruptions from COVID-19, the region's oil exporters are affected by lower commodity prices. Lower export receipts will weaken external positions and reduce revenue, putting pressures on government budgets and spilling over to the rest of the economy. Oil importers, on the other hand, will likely be affected by second-round effects, including lower remittance inflows and weaker demand for goods and services from the rest of the region.
Finally, sharp spikes in global risk aversion and the flight of capital to safe assets have led to a decline in portfolio flows to the region by near $2 billion since mid-February, with sizable outflows observed in recent weeks. Such a tightening in financial conditions could prove to be a major challenge, given the region's estimated $35 billion in maturing external sovereign debt in 2020. Against this challenging backdrop, the region is likely to see a big drop in growth this year.
What it means for Tech firms?
According to Forrester, technology and telecommunications industry will suffer have the following impact from the onset of COVID -19 –
Forrester is revising its tech forecast downward, predicting the global tech market growth slowing to around 2% in 2020 – this assumes the US and other major economies have declined in the first half of 2020 but manage to recover in the second half. If a full-fledged recession hits, there is a 50% probability that the global tech markets will decline by 2% or more in 2020.
In either case a second-half 2020 recovery or recession, Forrester predicts computer and communications equipment spending will be weakest, with potential declines of 5% to 10%. Tech consulting and systems integration services spending will be flat in a temporary slowdown and could be down by up to 5% if firms cut back on new tech projects. Software spending growth will slow to the 2% to 4% range in the best case and will post no growth in the worst case of a recession.
The only positive signs from the latest Forrester IT spending forecast is the continued growth in demand for cloud infrastructure services and potential increases in spending on specialized software. Forrester also predicts increase in communications equipment, and telecom services for remote work and education as organizations encourage workers to work from home and schools move to online courses.
Demand for online services has exploded and the infrastructure behind the internet has proved to be admirably reliable. Facebook has said that messaging activity has increased by 50% in those countries hit hard by the virus. Amazon is planning to hire 100,000 new staff to keep up with higher e-commerce orders. The big tech firms are also a bastion of financial stability: together Alphabet, Amazon, Apple, Facebook and Microsoft have $570bn of gross cash on their balance-sheets. Shares in these firms have outperformed the market since late January.
How the COVID-19 outbreak impact the ICT Market Growth?
Every industry is economically hurting already from the COVID-19 pandemic. Now is the time for enterprise software providers to go the extra mile for their customers across all industries and help them recover and grow again. Strengthening customers in their time of need by freely providing remote collaboration tools, secure endpoint solutions, cloud-based storage, and CRM systems is an investment in the community that every software company needs to make it through this pandemic too.
Opportunity Areas for Tech Firms in a post COVID-19 World
5G Networks
The industry's overall shift toward global software-centric networks and operations is taking a hit as a result of the current bleak global economic outlook and COVID-19. Growth stagnation at a macro level is bound to have a causal effect on the demand side; sales in the enterprise domain are expected to fuel innovation and diffusion of 5G core rollouts and new telco digital offerings.
In the long term, the turmoil emanating from COVID-19 will serve as a springboard for the industry to mull over alternative growth options at its disposal. The industry's positioning in the global production frontier remains anchored to hard-to-duplicate network assets and infrastructure that continue to yield results on the consumer front. The brief "pause" in production processes of some major economies should give the industry an opportunity to ponder avenues so that it can reinvigorate itself.
The ecosystem should be primarily positioned to create open platforms that many different companies can use to create added value. This will be particularly vital for the success of enterprise 5G and private cellular. 5G has reached significant momentum, but the current outbreak will slow down its progress. A great lesson has been provided by the virus breakout to both network operators and related authorities. The former should be able to manage the risk of relying on a few vendors dominating the infrastructure market. The latter should embrace new technologies and understand how these can be used in turbulent times to improve business and society
Cloud Computing
The COVID-19 pandemic sent hundreds of millions of student's home worldwide. Work from home is now the only option for many. In this crisis, cloud companies suddenly are the backbone of a global virtual learning and collaboration experiment on a scale never previously experienced. While the Internet backbone has long been a lifeline and reached over half the world's population in 2019, without scalable cloud services, the current disaster would be unimaginably worse.
Fortunately, cloud companies are weathering the pandemic stress-test caused by the sudden spike in workloads and waves of new, inexperienced users. Microsoft reports a 775% spike in cloud services demand from COVID-19. The order of magnitude demand surge has led Microsoft to prioritize COVID-19-related workloads. In fact, cloud companies' confidence in their ability to scale even further to support many more users forced to work and learn from home is so great, that some are offering free collaboration and conferencing services for those impacted by COVID-19, including some promising free services for the remainder of 2020
However, gaps in the multiple layers of cyber and physical infrastructure required to access cloud services are increasingly evident, particularly for low-income families and poorly connected regions, and the suddenly unemployed. Education and training gaps are also exacerbated. Still, the fact that the cloud is working so well will inform future discussions about the ways that cyber-physical infrastructure, the nature of work, learning, and healthcare across the world will co-evolve. As will its failures, not least in the potential deadly consequences of cyberattacks when under quarantine. Predictably, the growth of cloud -dependence- for daily life has led to an explosion of cybersecurity incidents.
Digital Security
The outbreak of COVID-19 and current limited understanding of the virus has led to much speculation related to the risk factors associated with its ability to spread through items and things that are used and handled by multiple people. Cash is one of those items that frequently changes hands.
Programs and initiatives focused on increasing digital payments, as well as the creation of cashless societies, were already on the rise prior to the COVID-19 outbreak. The overarching trend of replacing physical with digital payments is already well underway and, in many instances, already well established. Although contactless (both card and mobile variants) could be used to bridge the gap and offer a non-contact solution for payments. The eventual surge in E-Commerce has led to multiple avenues of online payment platforms. What was originally a space dominated by Amazon, Alibaba has now opened its doors to mom and pop stores with open platforms enabling them to drive sales online. In this crisis, secure cloud architectures are now essential not only for large enterprises and governments, but also for municipalities, small businesses, schools, and home users. In other words, everyone. Protecting against malware and viruses of the computer variety may not appear to be as deadly as COVID-19, but cyberattacks on WHO COVID-19 efforts (fortunately of limited impact, so far) among others could have devastating consequence.
This has created a gap in the current security market with multiple payment platforms seeking implementation of security products like IAM, firewalls etc. An increase in these payment platforms shall sustain post the COVID outbreak thereby enabling managed service portfolio's. Everyone within the payment ecosystem has a role to play, from the payment networks, all the way to the merchants. Education will be key and communicating how best to pay to a country's population will be paramount in ensuring minimal risk to the payments market.
Automation and remote monitoring will be two areas that receive more attention in 2020 for IoT services as a result of COVID-19. Healthcare will be another market where technology will be top of mind to better protect against future health crises. IoT suppliers should put more emphasis on finding opportunities and developing services for these markets to capitalize on COVID-19 after affects.
M2M & IOT
Like many markets that support the global supply chain, IoT suppliers will be impacted. IoT service providers are likely to experience a bit of downward pressure for their services, at least in the short term. Suppliers for fleet management and asset tracking/monitoring services will face significant revenue losses, if trade flows are restricted, but only for the very short term.
Interestingly, COVID-19 could spur more investment in IoT services for condition-based monitoring in the longer term. The reason is that equipment needs to be monitored and serviced, which still is a heavily human-driven activity. If more equipment and machines are connected, less human interaction will be necessary, at least for daily assessments on equipment operations. Industrial markets will see the upside, particularly the manufacturing and energy markets, which are highly dependent on machine operations. But other markets to benefit include commercial building automation, healthcare equipment monitoring, and transportation infrastructure.
"Social Distancing," could see cities and even enterprises investing in more kiosk and vending services to lessen human contact. From the enterprise perspective, airports and banks are the most likely to show greater interest in kiosks and Automated Teller Machines (ATMs). It is true that both industries are already investing in these technologies; however, COVID-19 may see them increase their investments as an even more prudent strategy to protect their business operations and improve customer services.
Automation and remote monitoring will be two areas that receive more attention in 2020 for IoT services as a result of COVID-19. Healthcare will be another market where technology will be top of mind to better protect against future health crises. IoT suppliers should put more emphasis on finding opportunities and developing services for these markets to capitalize on COVID-19 after affects.
Collaboration Services
The COVID-19 outbreak has caused travel disruptions worldwide, as governments and healthcare authorities impose travel restrictions in order to control the human-to-human transmission of the virus. This has already affected many industries, including telecommunication.
Companies will increasingly rely on telecommunication opportunities as strict travel and workplace policies are enacted. To maintain knowledge share, and hopefully recoup some of the losses seen by these restrictions, companies will hold virtual conferences and events, while mandating work from home policies and using existing telepresence options.
In order to manage productivity, while travel restrictions are in place, companies could deploy video solutions to stay connected with their customers and collaborate with employees in different regions. Cloud based video platforms are suitable for companies of different sizes to quickly deploy without requiring
significant Capital Expenditure (CAPEX). Enterprise video solutions can be deployed for corporate communications, employee training, product demonstrations, customer support, and many other use cases. Enterprise video solution providers should take advantage of the current situation to introduce their products and services and expand their businesses.
Wi-Fi & Wireless Connectivity
The outbreak of COVID-19 has resulted in many companies taking proactive steps to protect their workforces by encouraging working from home and promoting video conferencing as an alternative to face-to-face engagements. Many schools and universities have closed their doors temporarily, moving classes online and shifting to remote learning approaches. At the same time, people are spending more time at home as fears grow and more and more public events are cancelled, while consumer spending has shifted further from the high street toward online deliveries and digital subscription services.
When these factors are combined, the additional number of simultaneous home users and related increase in video and other traffic are likely to put significant additional strain on home broadband and Wi-Fi networks. Many users may find that their existing home Wi-Fi network and wider broadband infrastructure are inadequate or incapable of supporting this significant uptake in usage.
There may be renewed incentive for mesh Wi-Fi that can provide sufficient high-speed coverage to multiple users throughout the home. Companies will need to ensure they have the right infrastructure in place so large numbers of employees can connect to company Virtual Private Networks (VPNs) at the same time. Many companies may not have VPNs at all, while capacity limitations could put companies at further risk of security breaches or slow down productivity further.
Organizations will increasingly need to be more flexible and able to support and encourage options for remote working, learning, and training. Invest in alternative digital exhibitions and showcases and understand what role technologies like AR/VR may play in the next decade of this digital transformation, whether for marketing, education, or training purposes. However, all of these longer-term transformations require a deep understanding of the need for high-speed, highly secure wireless infrastructure to and within the home. This could lead to greater incentives being placed on rolling out high-speed fiber or last-mile networks, better awareness of the need for robust whole-home connectivity via mesh systems, and the adoption of 6 GHz Wi-Fi and the latest Wi-Fi standards. In addition, it could lead to greater home Wi-Fi security, improved cybersecurity education, and a better understanding of the need for additional Wi-Fi capacity in the years to come.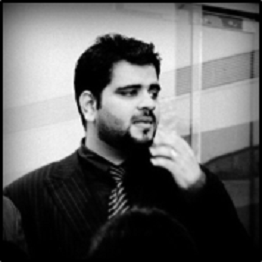 ABOUT THE AUTHOR
Rahul Saraswat

An Emerging Technology Consultant with over 6 years' experience in dealing with technologies like Hyperscalars, Internet of Things and Data and Analytics. He has aided in development of multiple solutions for customers in Middle East and Africa region enabling them in their Digital Transformation journey. A Certified AWS Cloud Practitioner, he is an AWS evangelist empowering customer adoption and expedited onboarding of different emerging technologies and services from varying industries and segments.