Business continuity depends on the efficient, uninterrupted flow of data across an organization – from operations to sales to fulfillment. Even a brief lapse in workload continuity can mean thousands of lost sales opportunities, disruption to production, and compromised customer trust. The causes of those lapses can range from natural disasters to mechanical failure or human error. Organizations need a proactive cloud disaster recovery strategy that will help you stay up and running in the event that your physical infrastructure is unavailable for any length of time.
Main Topics
Key Takeaways
Citrus Promotional Offers
FREE DISASTER RECOVER AND BUSINESS CONTINUITY CONSULTATION*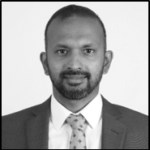 Dan Sithambaram
Director - Citrus Consulting Services - MENA
Director at Citrus Consulting Services. He is a consultative IT Infrastructure, Cloud and Big Data solutions consultant with exposure to North America, UK, Europe and Middle East markets. He has a hands-on knowledge in modern IT infrastructure, Cloud and Big Data Technologies and its best practices. He has over 14 years of industry experience in creating and deploying solutions around Data Center Transformations, Public/Private/Hybrid Clouds, Big Data Technologies and ITIL based ITSM.
Imad ElYassir
Territory Business Manager, Amazon Web Services – MENA
A Certified expert in public cloud (SaaS, IaaS, PaaS, AI, ML), and hybrid clouds with 7+ years of experience in the region. Imad has successfully driven multiple digital transformation initiative and aided in adoption of latest cloud technologies by enterprise customers across the Middle East.