The demand for IT cost optimization is often triggered by an interest in decreasing IT costs, but true optimization is more complex than that. True IT cost optimization is about efficiently delivering business value. If done properly, a wide range of constituents will benefit. In this demo, we will be presenting how your business can achieve up to 75% Cost Optimization on your AWS Cloud Infrastructure with our Certified Senior AWS Consultants.
The coronavirus outbreak is having a growing impact on the global economy. Large-scale quarantines, travel restrictions, and social-distancing measures drive a sharp fall in consumer and business spending, producing a recession in global spending. Consumers stay home, businesses lose revenue and Business investment contracts. Through these times it is imperative to maintain and optimize your IT spends to ensure profitability.
The Pay-as-go leads to a dynamic cloud environment which creates the need for continuous cost optimization. Maximize the ROI of your cloud resources with actionable insights based on the following 5 cost optimization strategies:
Right Design
Automation
Lifecycle Management
Modernization
Commitment
Main Topics
Key Takeaways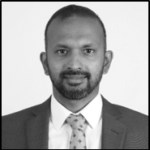 Dan Sithambaram
Client Success Director
Dan is a Director at Citrus Consulting Services based in Dubai, UAE. He is responsible for Client Success and Project Delivery Excellence across the Middle East and Africa. He has over 15 years of industry experience consulting with customers across North America, EMEA, and APAC. He has hands-on knowledge in creating and deploying solutions around Data Center Transformations, Public/Private/Hybrid Clouds, Big Data Technologies and ITIL based ITSM and its best practices. Dan has led multiple Digital Transformation engagements across the world with hands-on experience on not only Consulting but also Delivery and Governance. Bringing global best practices and multiple domain knowledge, Citrus Consulting Services is immensely benefitted from his approach with the Automation First Framework.
Sherin Shahanas
Senior AWS Solutions Architect
Sherin is a Senior Consultant at Citrus Consulting Services. A Cloud enthusiast, he has hands-on experience in DevOps and AWS Cloud infrastructure automation with a demonstrated history of working with small and large global clients. He is a skilled administrator in AWS, System administration of Linux and Windows environments, Chef and Docker. Sherin has executed multiple projects in the region wherein he has optimized customer infrastructure in terms of Capacity, Security and Cost leveraging his multi faceted AWS experience and Professional + Associate level certifications.